Hypership Out of Control by Fun Infused Games is an auto-moving/auto-firing game with vertical shooter elements. This app run on iOS 4.2 or higher and can be played on iPhone 3GS and up, iPod Touch 3rd generation or better, and all versions of the iPad. The controls are easy and comfortable but be careful when the speed picks up. For the most part, this game is about dodging and shooting obstacles at increasing speeds, there are no enemies to shoot at. You also try to collect coins and get a high score.
The controls are touch and hold a spot on the screen and drag your finger around to move the ship (my spot is on or under the ship). Double tap to use a bomb and tap on the score on the upper left of the screen to pause (around the top part of the screen will also work). Try to collect powerups and coins since they usually help you get more points. Powerups such as the powershot which destroys many obstacles including giant meteors/asteroids, maxspeed, magic star which grants invincibility, all of the items are used temporarily but the bombs have a max stock of three and when they are used, they're gone. Powershot, bombs, and magic star helps you destroy things that normally can't be destroyed. Collect one hundred coins to increase your multiplier by one (max of five). Each wave features new designs and increases your maximum speed.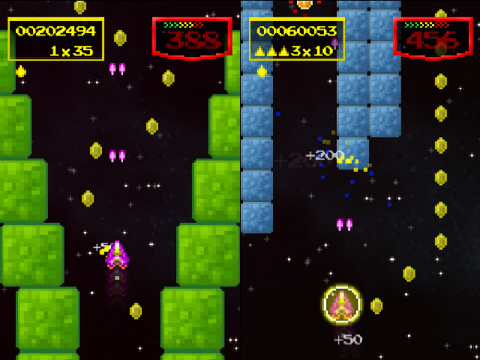 There are five game modes and an option for reverse which didn't seem to do anything from my experience. Normal mode has you pilot the ship with four lives while hardcore has no extra lives. Coin down has a depleting coin counter on the upper left (starts at one hundred but can go over) which ends your game when it reaches zero and you have two lives if you lose any other way. Superspeed plays like normal or hard mode but there is no maximum threshold for speed. Ghost is the most difficult mode for me because you can see your ship, coins, and powerups while obstacles are invisible until they reach the bottom part of the screen and are jet black. You have to rely on the sound of your lasers hitting an obstacle and hopefully evade them despite their size and shape. This game has Game Center support for leaderboards and achievements which can be intrusive when you turn off your device and turn it back on to play.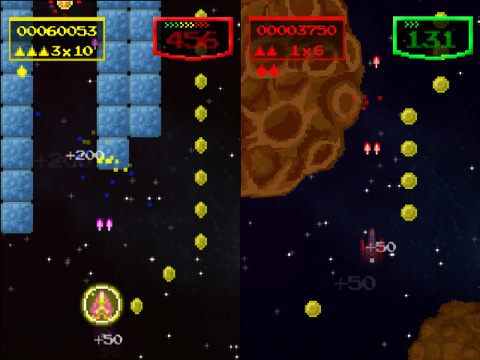 The graphics are colorful pixels with a variety of designs. You get to pick one out of six hyperships to pilot which shoots different colored lasers. Regarding hyperships, I would like different types of attacks and maybe various speeds or abilities but for now it doesn't matter which ship you pick. Depending on the wave you're on, the design of the obstacles will change such as wave one having meteors/asteroids while wave three has green blocks with some that move and some that have the word slow on them. Some waves feature obstacles from other waves. The background shows space and stars which gets a bit boring to look at after enough waves. I would like Fun Infused Games to put things like black holes, a sun, galaxies, etc. for more variety. Two rows of blocks grouped together will show you that you're entering the next wave and remember to destroy them for points and entree.
The music is nothing special to talk about but the sound effects are very important. The sound effects tell you when a powerup is about to run out and if you're hitting an "indestructible" object. Everything sounds fine but nothing unique to stand out. The way to increase the volume for music and sound is to tap on some white blocks (up to five). There is no iPod music support.
Hypership Out of Control sells for $0.99 in the App Store while there is the free lite version to try. This game is not as out of control as its name suggests since your hypership controls well, it's the obstacles that make it hectic. I've gotten up to wave nine on normal and don't know if I can get to anything higher than that. I enjoy ghost mode despite the difficulty because it requires listening to the sound effects to survive which most games of this type do not do. I think this is great way to see what a vertical shooter is like minus the moving targets.