I've always admired Korg's flexibilty. They've been making instruments since the sixties and have embraced the world of organs, beatboxes and synths with gusto. Even now they are bringing out weird and wonderful little devices (I got to play with the charming KAOSSILATOR 2 the other day and it's a delight). And they are no stranger to the iOS market, which in many ways is a wild new frontier of music making. I've you've not had the chance to marvel at the iMS20 then please take a moment to bask in it's power and wonder how all that is coming off a tablet.
iKaossilator takes some of the fun of the aforementioned KAOSSILATOR (the hardware gets all caps) and crams it into an iPad or iPhone. It's a universal app but it's designed to be operated with a single finger so you can easily make a great tune on your phone without compromising functionality.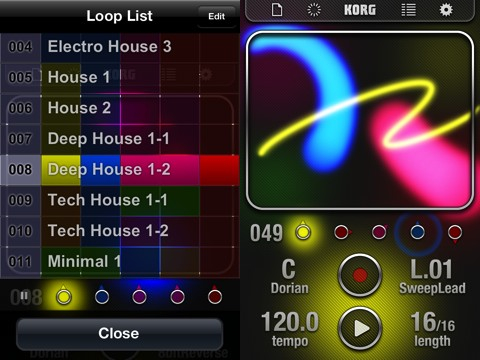 It's hard to describe what the iKaossilator does unless you are familiar with its real world analogue but that's what they are paying me for. It's a comprehensive synthesiser that is controlled via an X-Y pad rather than a conventional keyboard or button interface. This makes it the ideal candidate for touchscreen wizardry. To play, simply stroke, tap or rub the screen and watch it literally light up.
You can make some conventional sounds on the iKaossilator but it really comes into its own and beeps and boops machine. I've you love the chaotic futuristic raps and beats that El-P has been throwing down for a decade plus then this is the instrument for you. It's also great for making all manner of electronic music and you could throw together some impressive drum & bass or eerie dubstep with a little bit of time and practice. There are about 150 built-in presets, which are great although you can't really add to them or edit them.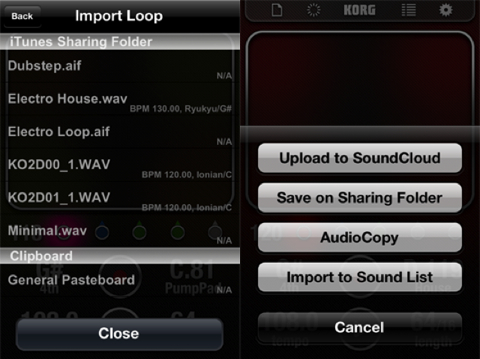 There's a real performance element to the iKaossillator as it comes with a loop sequencer. You can layer five different instruments and mix them on the fly. The Mix Play feature means you can do live remixes and switch between loops like a DJ. You can fiddle with the tempo at the flick of a switch and also tweak the mode if Dorian is not your thing.
Loops can be exported to SoundCloud or iTunes and it's pretty easy to record live mixes too. It also works with AudioPaste which is a new discovery for me and one that I'm loving.
KORG iKaossilator is a tad on the pricey side but considering how much gets thrown in for the money it's really worth looking at.
This 3rd Party App is available at the Apple iTunes AppStore. Browse the full list of
all AppStore apps
filed under the AppStore category.