The Vanity Fair Digital Edition iPhone, iPod Touch, and iPad app uses straightforward navigation and interface to access its insightful articles, striking photography, and elegant perspective. You can download a 30 day free trial, but the subscription costs of $1.99 per month or $19.99 per year for the rich content and experience are reasonable.
The Vanity Fair iPad app resides in your iOS Newstand. You simply touch the Newstand icon, then touch the Vanity Fair iPad app. As a new subscriber, I simply authorized a payment with my iTunes account in a pop-up notification screen. I also established a password-protected account with VanityFair.com to access subscriber features.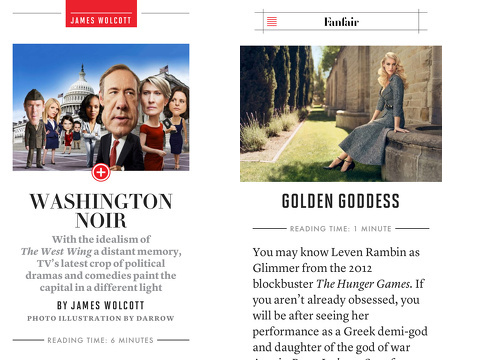 The Vanity Fair iPad app has a functional home screen with simple navigation tools. The cover of each issue is a thumbnail image, and you press the cloud icon to download it. The download speed on my wi-fi connection was surprisingly swift. At the bottom of the screen, you move with one touch between the library, store, account, and faq screens.
The navigation incorporates multiple gesture controls for an engaging, lively experience. You can simply swipe through each page to move through the magazine. If you run across a headline for an article on the front of the issue or table of contents, you tap it to move directly to that piece. You can tap the screen near the bottom, and a volume style adjustment appears. You can move from the beginning to the end of the issue with your finger swipe. If you tap at the top of the screen, you may select the list icon in the upper left corner. A list of content slides on the screen with a small image and title. You can touch the preferred content to move to it swiftly. You will also find a vertical line icon when you tap at the top of the screen in the right corner. This opens my preferred mode of navigation. A bar describing each piece of content emerges at the top of the screen, and the content shrinks to thumbnail sizes. You swipe horizontally, tap the content, and enjoy.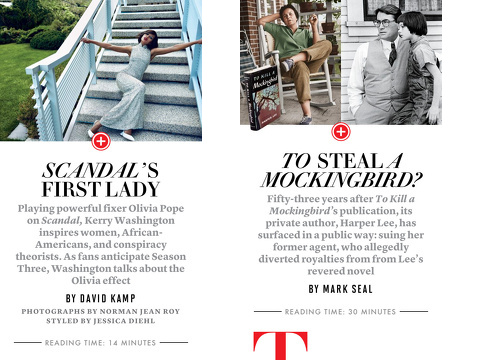 Additional helpful features emerge, as you dig into an issue of Vanity Fair magazine. You can add articles to your favorites with a touch on the star icon. The arrow icon allows you to move one step back. You can also share to Facebook, Twitter, and email seamlessly.
The Vanity Fair Digital Edition iPhone and iPad app brings sophisticated and intelligent vibe, content, and stories to your fingertips with grace and ease.