Stay on top of the latest Business Insider articles and features with its solid iPhone, iPod Touch, and iPad app. The free download from the iTunes App Store uses simple, intuitive interface to search by category and latest news, as well as share with ease.
The Business Insider iPhone app does not require an account or any social syncs to get started. However, if you choose to share articles to your existing social networks, then the specific permissions needed will be provided in a pop-up for your authorization. These authorizations take place when you share – not before.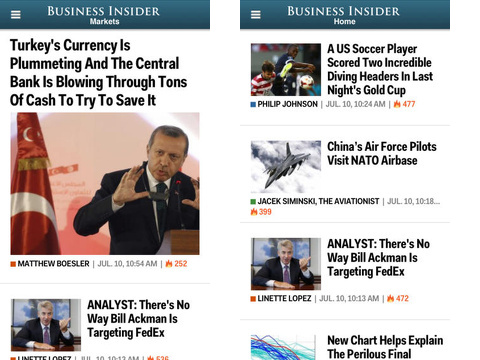 The Business Insider iPhone app opens with a pop-up explaining the auto-update feature. The default setting is an automatic update every 30 minutes. It not only gives text directions to adjust that automatic update, but it also has screen shots to show you. This is an awesome and helpful feature, as this detail is usually buried in the interface by developers. Business Insider iPhone app's audience is certainly tech-savvy and could figure it out, but it's nice to have a reminder.
The home screen has the hallmarks of a standard iOS news app feed, but without over-the-top ads. The interface is a simultaneously streamlined and attractive list. The most recent story resides at the top of the screen. Each story has a small photo, headline, time published, and author. If the article is not produced by Business Insider, the source is available. To search by category, you tap the line icon in the upper left corner. A sliding left menu contains a list of categories and subcategories. Sponsored content is a category, as well as finance, politics, tech, strategy, and entertainment. A tap on a category changes the screen's feed.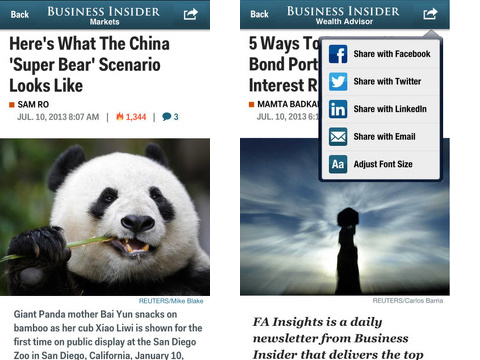 To view each story, again, the interface is simple and effective. The headline, author, time published, and social interactions are outlined. Photos and the content follow below. Spread your favorite Business Insider iPhone app stories by touching the share icon to Facebook, Twitter, LinkedIn, and email. The share icon also allows you to switch the font size between small, medium, and large. Suggested articles are listed at the bottom of the screen. Comments are not automatically shown, but you can elect to show them. I am always grateful to have the opportunity to opt-in with comments.
The Business Insider iPhone, iPod Touch, and iPad app is an infinitely easier tool to stay up to date with its compelling content than accessing it via Twitter. It is a workhorse news iOS app with a targeted focus to get you the stories without fussy interface.