Wanna turn your Photos into Art? The Color Effects Pro universal app download lets you enhance your iPhone, iPod touch, iPad, and Facebook photography with cool techniques to change colors. Essentially, you highlight parts of the photo–a person, an interesting aspect of the background–with photo effects by moving your finger on your iPhone and iPad screens to create dramatic photography.
The developer Daniel Cota has integrated excellent step-by-step instructions via pop-ups, when you create your first Color Effects Pro image. He has also created a logical, intuitive process and movement through the app, so you can maximize features. You can apply Color Effects Pro effects to images in your device's library or Facebook photo albums, as well as shoot a new image from the Color Effects Pro app's camera.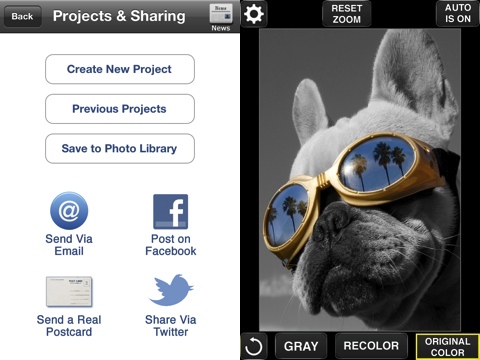 The first step in creating your image is to crop the photo. With your fingers, you manipulate your image. With the unusual tools of this photography app, you could certainly use interesting and unusual pans, zooms, and crops for dramatic results.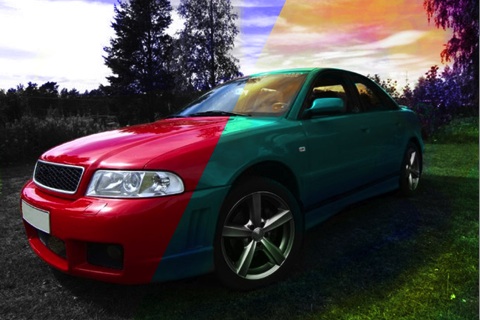 After you crop your photo, the Color Effects Pro app really gets fun. At the bottom of the screen where you manipulate the color, you have four choices: undo, gray, recolor, and original color. You start with a gray image. To return a portion of the photo to the original color, you tap original color and gently glide your finger on the iPhone and iPad screens. You will watch the original photo color return to those parts. For example, you can highlight your kid in front of a beautiful gray landscape. When you highlight and return a person to the original color, depth and perspective are created in the photo. If you want to change a part of a photo to a specific color, you can use the recolor button. When you tap the recolor button, you have a selection of tones to use and have tools to adjust to the perfect color. If you want to exaggerate the sky in a photo, you can use a bright, bright blue to contrast with the gray landscape. If at any point, you want to return to the gray, then touch gray. If you find that your finger is highlighting more than you want, you can adjust the size of the brush and also touch the undo button. The undo button makes small adjustments, and that is a great feature when you are fine tuning an image.
The Color Effects Pro universal download also allows you to save, send via email, and share on Facebook and Twitter through the settings button with your final image. One unusual and interesting sharing feature is the ability to connect with Sincerely.com to send your Color Effects Pro app photo as a postcard via snail mail.
At just $0.99, the Color Effects Pro app for iPhone and iPad brings a fresh, innovative perspective to your photography for a small investment. Although the user interface in this app could use a graphics update but the functionality is amazing. This is an addictive app, so head to the iTunes store to download and get hooked.