The Starmatic photography app for iPhone and iPod Touch challenges Instagram with fresh features accessed by clever gesture controls. The interface and navigation have a delicate, yet sophisticated touch, and they incorporate multiple gesture control options to achieve the same end result without confusion.
You can create an account with your email or authorization with Facebook and Twitter. You are greeted with the left navigation menu sliding into the left side of the screen, and you can catch a glimpse of the Starmatic social networking app feed of photos. From the navigation menu, you can check out feeds, find photos near you using location services, check out your notifications, and take photos. The feed is like the recently updated Pinterest feed with a matrix of photos of varied shapes and sizes, but there are no user names or comments. The chance to look at photos using your location services is a nice touch. The opportunity, however, to instantly start following Starmatic users is buried in the discover option in the navigation menu. It would be helpful to add that feature to the registration process to initiate the social networking aspect more quickly.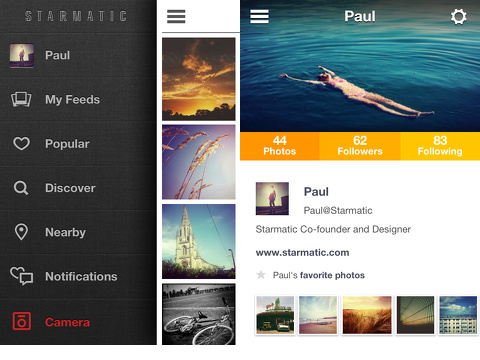 The Starmatic feed of photos packs a powerful punch with its combination of great photos and multiple opportunities to explore the photos shared. If you tap your finger on the photo, four icons to engage socially appear–repost, like, comment, or share with Facebook, Twitter, and email. You can also scroll vertically down the screen with your thumb, and a menu bar appears at the bottom of the screen with the same options. You can swipe horizontally to check out the larger versions of the photos. To return to the matrix grid, you simply touch the box icon at the top right of the screen. These gesture controls bring excitement and a fresh touch.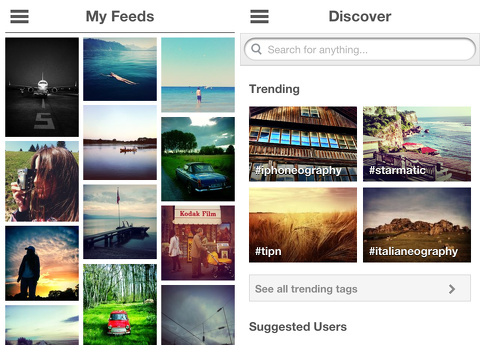 You can create your own Starmatic iPhone app photos by selecting the camera option from the left navigation menu. You may shoot a photo from the nicely framed in-app camera, or you may select from your iPhone libraries. After you shoot your photo or select one, you can apply effects in an interface reminiscent of Instagram. The bottom menu bar is a roll of film that unwinds to show your photo with the effects applied. When you touch an effect, your photo fills the screen. The top menu bar lets you apply more light and fade perspectives with responsive gesture controls. If you want to purchase additional effects, that selection is available as well. To finish your photo, you add a title, comments, and tags. You can also share to Facebook and Twitter or send in an email. The effects are attractive and appealing, but not necessarily remarkable. Like Instagram, the options for photo editing are limited, but just enough for the vast majority of users.
Starmatic adds a level of engagement and sophistication to the expanding cadre of iOS social photography apps for the always attractive price of free.