Want Siri on your non-iPhone 4S device? Take a look at these alternatives in the App Store. Siri is amazing! Because Siri was created by Apple, it has full access to the iOS. This means it can do really powerful things like creating new reminders or sending out emails to contacts. Siri is also capable of carrying seemingly natural conversations with you. If you don't have an iPhone 4S yet, there are a few iPhone and iPod touch apps popping out in the App Store to serve as alternatives for the time being. These apps try to duplicate and or imitate the features of the native Siri app on the iPhone 4S, although none of them come even close to being as effective. We've reviewed the 6 top voice recognition apps in the App Store that offer assistant like functionality, including SpeakToIt Assistant, Evi, Dragon Go, Vlingo, Voice Actions, and vokul. We tested all of the apps using the same 12 commands listed below. You can see the overall results in the table below. While not any of the apps can do what Siri does, some of them offer interesting and unique features that may be of interest to you. Read below for the highlights of each application.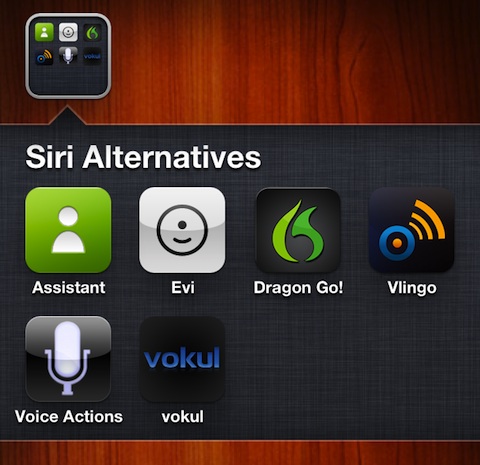 Voice Commands used for testing
1. SMS (Text Ted Johnson)
2. Email (Email Ted Johnson)
3. Phone (Call Ted Johnson)
4. Calendar (New Appointment Tomorrow at 9am with Ted)
5. Reminders (Remind me to buy some milk)
6. Notes (Create Note Buy Milk)
7. Clock (Wake me up at 6am tomorrow)
8. Music (Play music)
9. Maps (Find nearest gas station)
10. Weather (How's the weather)
11. Stocks (What's the stock price of Apple)
12. Web (Search the web for iPhone News)
Test Results
Siri
Speaktoit
Evi
Dragon Go
Vlingo
Voice Actions
vokul
SMS
Yes
Yes
No
No
Yes
Yes
Yes
Email
Yes
Yes
No
No
Yes
Yes
No
Phone
Yes
Yes
No
No
Yes
Yes
Yes
Calendar
Yes
Google Calendar
No
No
No
Yes
No
Reminder
Yes
Evernote
No
No
No
No
No
Note
Yes
Evernote
No
No
No
No
No
Clock
Yes
No
No
No
No
No
No
Music
Yes
Yes
No
Yes
No
Yes
Yes
Maps
Yes
Google Maps Website
Link(s)
Yelp
Yes
Safari Google Search
No
Weather
Yes
Yes (1day)
Link(s)
AccuWeather
Google
Yes
No
Stocks
Yes
Google Frame
No
Google
Google
Safari Google Search
No
Web
Yes
Google Frame
Link
CNN
Google
No
No
App List – Siri Alternatives for the iPhone AppSafari.com
Jailbreak Alternatives for Siri: If you have a jailbroken iPhone with Cydia installed, you can get a hacked Siri working on your device using either the i4Siri or Sara Cydia apps. These jailbreaks will also allow you to do things using Siri that it can not do at this time like launch apps, translate text, send tweets and more.