The Cardio Lie Detector app uses your iPhone camera to detect and monitor heart rate to determine if you're lying. It's a fun, WTF iPhone app that makes a cocktail party more interesting. Or, if you're completely paranoid that your boyfriend is cheating on you and all of your stalking of his social media hasn't turned up anything, perhaps he'll be willing to submit himself to the Cardio Lie Detector iPhone app during an argument at 2AM.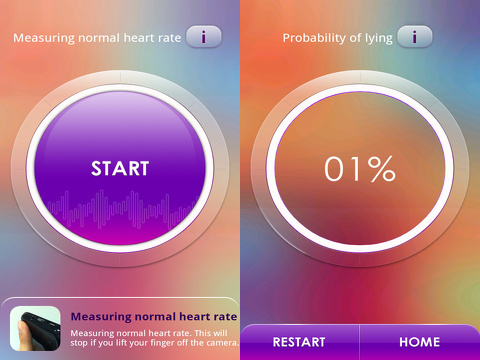 The Cardio Lie Detector creates a baseline for each new user by holding your finger on the camera lens. It is fairly sensitive. If your pulse cannot be found or your finger slips, a pop-up notifies you to readjust your finger position. You spend 15 seconds creating the baseline.
Once the baseline is established, you press start and a five second countdown for finger positioning follows. Then, you must endure thirty seconds of truth telling or lying. As you speak, a visual representation of your baseline heart rate and your current heart rate intersect on the screen. At the end of the thirty seconds, your probability of lying pops on the screen.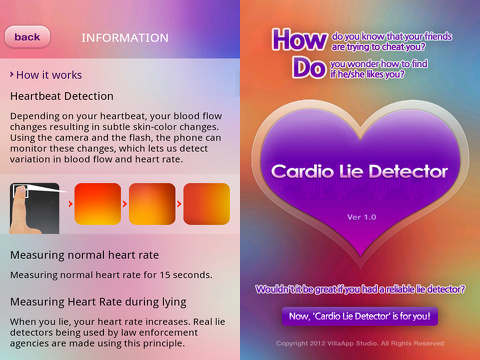 The graphics are a bit dated with muted pink and purple. But, that's not a huge deal. The Cardio Lie Detector iPhone app would be at home on an episode of The Facts of Life, Sex and the City, and Modern Family.
The Cardio Lie Detector may not solve any of the world's problems, and if used with serious intention, it may create more real-life problems. It's a small investment for a party trick or a tool to assess trash talk after pounding 6 for 3 at happy hour.
This 3rd Party App is available at the Apple iTunes AppStore. Browse the full list of
all AppStore apps
filed under the AppStore category.