Chrome is Google Inc.'s flagship internet browser, recently made available for iPad, iPhone, and iTouch. Google's internet browser brought a number of new innovations to web browsing, so I was very excited to see what Chrome could offer for the iOS.
The iOS Chrome browser has adopted some of the standout features of its original predecessor. The menu options are tucked away and the size of the top bar was made as small as possible to maximize the screen space for the pages being viewed. It introduced an 'incognito mode' in which history, cookies, and other traces of your browsing do not show up. Not that I would judge you, but this way you have the option of viewing any of the literally countless number of shameful things available for searching on the internet without anyone finding out. I'm lying, I would definitely judge you.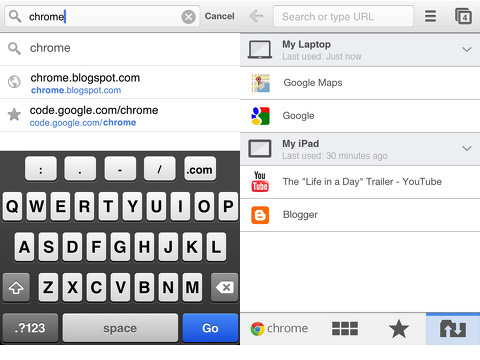 Perhaps the best feature of Chrome is the option to link up your account through your gmail account. This way you can retrieve the pages you were viewing on your computer when you sign onto your device. You even have the option of deciding which features to sync, including bookmarks, omnibox history, passwords, and open tabs. Google also offers the option of encrypting your synced data for added security.
Tabs can be scrolled through vertically in a sleek tile screen. As far as speed goes, Chrome and Safari feel about the same, and a quick search online of speed comparisons seem to pretty much agree. The only area Chrome falls short would be in JavaScript, since Apple does not allow third party browsers access to its Nitro JavaScript engine, however even this feels negligible.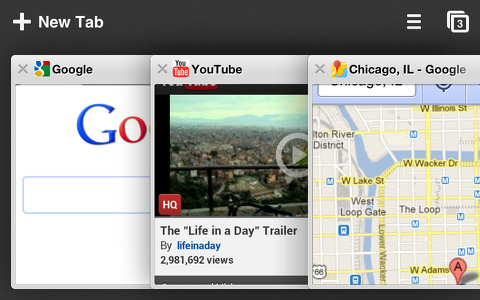 Apple does not allow changing your default browser, so although you are free to replace Safari with Chrome in your home screen or dock selecting links in messages and apps will still take you to Safari. Chrome uses the same rendering engine as Safari, so in a lot of ways it's just Safari with a different skin. I would say the biggest consideration is what browser you use on your home computer or laptop. If you're a Chrome user on the computer then it makes sense to switch to Chrome on the iOS. If you fully utilize iCloud then you might want to just stick with Safari. Regardless, Chrome offers a great free browser which serves as a legitimate substitute for the default browser.