The YouTube Capture iPhone app streamlines and enhances the process of shooting videos and posting to YouTube. You can create new videos with improved tools, as well as apply them to your existing videos. The excellent start process also makes sharing your YouTube videos to Facebook, Twitter, and Google+ seamless.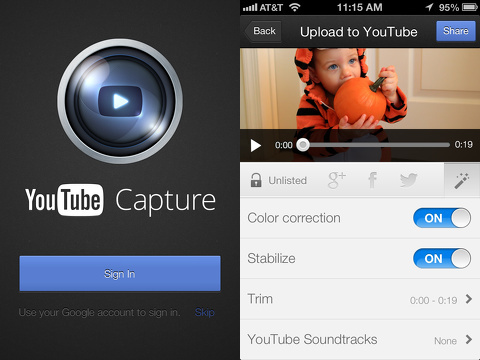 To get started with the YouTube Capture iPhone app, you are introduced to its features and establish your settings at the same time. There are four screens accessed by horizontal finger swipes. At the first screen, you sign in to your Google account. On the second screen, you set it to correct color and stabilize. The third screen asks your permission to access the camera roll. The last screen allows you to authorize Facebook and Twitter sharing. It automatically connects your YouTube and Google+ profiles. This tutorial should be lifted and incorporated in other iOS apps.
The YouTube Capture iPhone app opens to an in-app camera. You can adjust flash and change the direction by touching the appropriate icon in the top right of the screen. You can also access videos in your camera roll from the screen. The in-app camera automatically creates videos with color enhancement and stabilization features. If you select to post an existing video, you tap it and press the magic wand to apply the video improvement tools. You add a title, select social networks for sharing with one touch on the appropriate icon, and upload. You can select the landscape lock option in the settings menu accessed by touching the wheel icon.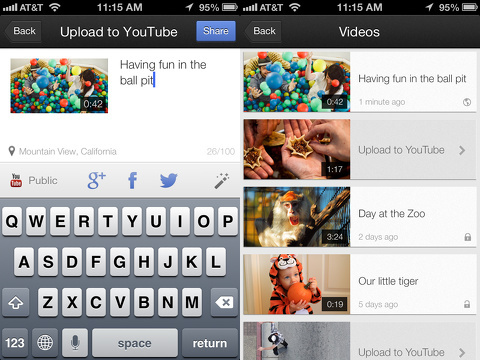 Once you try the YouTube Capture iPhone app, you will no longer post videos straight from your camera roll. The speed of the upload and concise interface for sharing make it a necessity.
This 3rd Party App is available at the Apple iTunes AppStore. Browse the full list of
all AppStore apps
filed under the AppStore category.