Are you looking for a video editing iPhone app to trim your videos of the boring fluff or unintentional misspoken words, so you can keep the most important moment you captured? The Givit Video Highlighter iPhone video editing app is a solid choice to edit, enhance, and share your videos. It has simple tools and functions that appeal to most–including the ability to strictly control your sharing. The Givit Video Highlighter iPhone app also has some fantastic, unexpected video enhancement tools like instant replays, changes in speed, and nuanced transitions.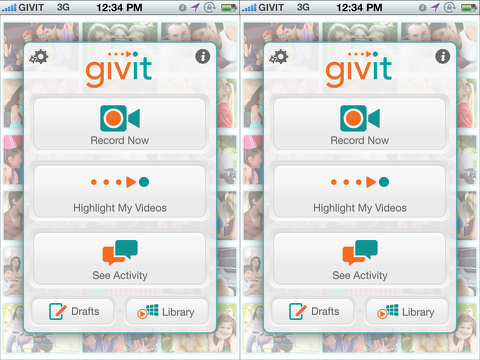 The Givit Video Highlighter iPhone app has a nice intro video, but you will find the tips, tricks, and hints in helpful pop-ups and sliding navigation bars. There are pop-ups that shade the screen and a menu bar with directions to help you understand the gesture controls. Generally, you will make your Givit video with just taps on the appropriate icon.
You can create videos through the in-app camera by touching the record now icon on the home screen, or you can choose existing videos in your iPhone photo gallery with a touch on create highlight. After an authorization to access the photos, you will find a matrix grid of your videos. The advantage to shooting a video through the in-app camera is the ability to select highlights from your video during the recording process. The interface to select the most cherished moment of the video is the same. You tap on the screen to highlight the previous seven seconds on the left side of the video, or you tap on the right side of the video to highlight the video currently recording.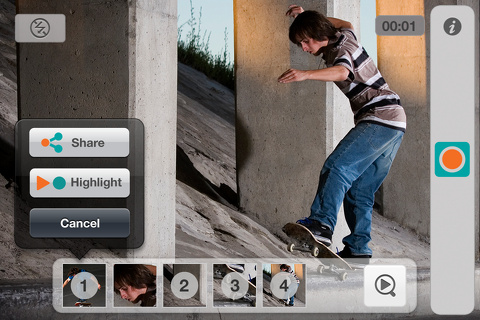 After you have selected videos or you shoot them, you move to the editing interface. There are four choices–highlight, effects, music, and finish. With highlight, you select the preferred parts of your videos. You can select several videos to link together into one movie. In the effects section, each highlight and the transition period between each highlight can be manipulated with a touch on a selection. For the video, there are several icons that pop-up on the menu bar at the bottom of the screen like slow, fast, instant replay, and double take. For the transitions, you can fade to black, slide, and zoom. You can play with the video and transition effects to add your personal touch. With music, you can select the level of the audio from the video you created. There is a volume bar, so you can select to emphasize a song from your iTunes music library or the video audio. The sharing features of the Givit Video Highlighter iPhone app allow you to share your video with YouTube, Facebook, Twitter, or selected private users.
Instead of telling a friend who is watching your video, "Just wait. The good stuff is coming up." With the Givit Video Highlighter iPhone app, it's just the good stuff.