The Atlas by Collins iPhone, iPod Touch, and iPad is an interactive globe with one touch encyclopedia-style detailed information. The great gesture controls, excellent content, and simple navigation make this a fantastic resource for students, children, parents, and anyone who likes to win any geo-political happy hour arguments.
The Atlas by Collins iPhone app moves you intuitively between two screens. You can swipe to the right to access the store to purchase additional globes filled with information. You swipe to the left to find the globe. The globe on a free download's screen has a satellite view of earth. When you first double tap the globe, a nice introduction to the gestures and features begins. You simply swipe your finger anywhere on your screen to move around the world. You pinch to zoom in and out. You have a compass in the middle of the screen pointing north to help you maintain your bearings. At the top of the screen you will find the search bar.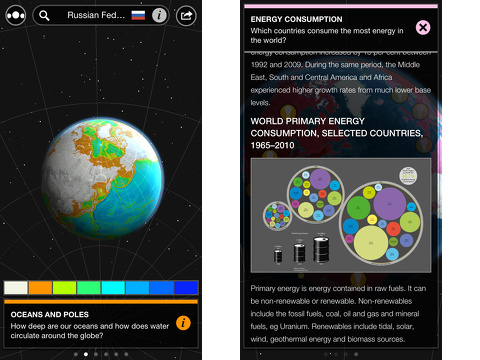 The search bar has two functions. It constantly changes information as you move around the globe. If you don't know exactly where you are, the search bar will give you that information. You can also navigate around your globe by typing in the search bar. You can search for cities, countries, and remarkable features.
The information icon next to each location in the search bar gives you access to details and insightful information. The globe screen dims, as detailed information appears over the screen. The detailed information is reminiscent of the bullet point info shared in encyclopedias from ancient times 20 years ago. You can quickly learn info like latitude/longitude, type of government, population, capital, languages, religions, currency, national animal, as well as a brief description of the country's geographic and economic information. When available, pertinent links to websites are included.
The share icon in the upper right hand corner handles unexpected tools. You can share to Facebook, Twitter, and email. You can also snap a screenshot to save to your camera roll. You can pinpoint your location on the globe, if you authorize location services. You can also adjust the compass. By default, it will continue pointing north. You can also choose to activate free rotation and gyroscope settings. You should definitely give these different compasses a try. They offer a much less structured experience that is also much more reminiscent of twirling a globe.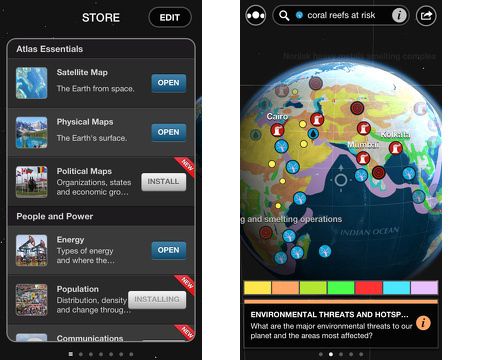 The free download from the iTunes App Store brings you a satellite globe and content covering all parts of the world. For additional $.99 – $1.99 in-app purchases, you can access additional maps and content like development, economy, physical maps, political maps, energy, population, communications, and environment. You swipe back and forth between purchased globes by touching the icon with three circles in the upper left corner of the screen.
The Atlas by Collins iPhone, iPod Touch, and iPad app is an incredible, reliable resource, and, even with several in-app purchases, it is a bargain compared to what was once charged for this same content 20-30 years ago.