The Izik iPad app incorporates well-crafted gesture controls into its intelligent interface to make web surfing a much more pleasing and intuitive experience. You can swipe and touch your way through web content presented in categories instead of search engine ranking and marketing spin.
The Izik iPad app opens to a bright home screen with white background. The top menu bar contains just three tools. The lined icon opens a sliding left column with trending searches. The demo icon introduces you to tools and functions. A tap on the simple search bar in the top middle portion of the screen allows you to type in a search. Suggestions to autofill the search option are offered, and, in all of my searches, are relevant.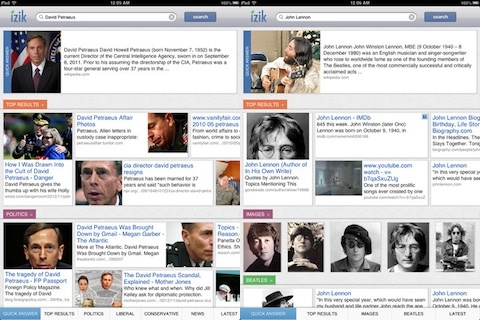 After you enter a search, the screen fills with well-organized content. The content is arranged in list form–but with a twist. The category is presented in a file folder tab, and the content is arranged in squares that are arranged in a horizontal line. You can swipe the squares to reveal more and more content. Each square has a clean appearance with a logo for a website and a glimpse of the first few lines of content from the website. You swipe vertically down the screen to continue to check out the other categories. You may also move to each category in one touch from a menu bar at the bottom of the screen.
The content organization of the Izik iPad app is brilliant and fresh. For many of my searches, the first three categories were quick answer, top results, and images. The quick answer section for several searches included a photo and a brief overview from a Wikipedia article. I searched for London, England, and the first suggestion was a travel website. One of the categories was also travel, but you could also check out the latest news in London as well. Simply put, the categories relate to the different approaches people take to different topics. For example, if you are looking up a company to research for your investments, you'll be happy to find a one-touch option to look at a money category. I searched for a favorite sports team, and I was pleased to find tickets as a one-touch option.
The Izik iPad app delivers not just a much more complementary interface to an iPad search app, but also the inclusion of relevant categories saves time and frustration due to the scrolling through page after page of irrelevant garbage and marketing. Perhaps the most brilliant aspect of the Izik iPad app is the free price tag. If you have an iPad, it's a must.
This 3rd Party App is available at the Apple iTunes AppStore. Browse the full list of
all AppStore apps
filed under the AppStore category.