Zoom
User Reviews

Long distance relationship got you down? If you've been looking for an iPhone app that would remotely vibrate your partner's iPhone, the you're in luck. Wait… What? Yes, an ex Microsoft employee has created an app for that. It's called Closer ToGetHer. What does it do you ask? It's a remote vibrator! Yep, it does that and nothing else. How much does it cost? Ten dollars, well actually 20 since you'll need two copies of the app to get any use out of it. A pretty crazy idea which is why we've tagged it with the new WTF keyword here. Valentine's Day is tomorrow and what better way to show your girlfriend you love her than giving her a creepy iPhone app that vibrates her iPhone. Or maybe spend the $20 on some chocolate or roses instead.
WTF App of the Day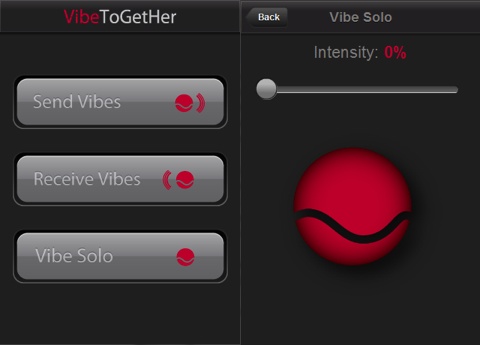 What does it do exactly? You run both apps, they connect to each other and off you go. You can either send or receive "vibes" and are able to adjust the intensity level. There's even support for controlling something called an OhMiBod vibrator that can plug into the iPhone.
Here is a video demo of the Closer ToGetHer app on the iPhone

This 3rd Party App is available at the Apple iTunes AppStore. Browse the full list of
all AppStore apps
filed under the AppStore category.
Price: $9.99
Version: 1.0
Size: 20.46 MB