The Alien Sky iPhone, iPod Touch, and iPad app transforms your iOS photographs into the latest UFO sighting with photo effects and filters. My son introduced the Alien Sky iPad app to me, as we traveled home following a trip to Kennedy Space Center. It is filled with nice interface, well-crafted effects, and simple tools to add a celestial touch.
The Alien Sky iPad app has a simple home screen that leads to straightforward interface for editing. The home screen has two selections–load photo or shoot photo. With a touch on the load photo icon, your iOS camera library categories slide up on the screen. You touch the category, and the interface becomes a matrix of photos. Frequently, you are transported to a new screen and back to select photos, but the interface creates a seamless experience.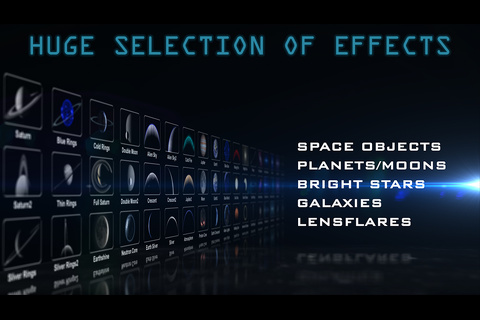 After you select your photo, you moved to the editing screen. There are three choices listed at the bottom of the screen–adjust, effects, and filters. A tap on the adjust icon leads to another sliding menu of choices. There is a wheel of color at the top with a dot in the middle. You move the dot to the desired color. You will also find three volume style adjustments to change the brightness, aspect ration, and image gamma. The image gamma adds that cool, grainy science fiction perspective to your photo.
The effects icon leads to a surprising number of elements to add to your photo. The photo disappears, and the screen fills with a matrix of 99 items to add to your photo. The selections range from planets, moon phases, eclipses, galaxies, and stars. To add an element, you tap it and place it on the photo that reappears on the screen. You can pinch and expand to change the size of the dust rings or neon galaxy with agile gesture controls. You touch the effects icon to return to the matrix of effects. At the top of the screen is a great function, you touch the render icon to allow you to lock the position of the effect and add another.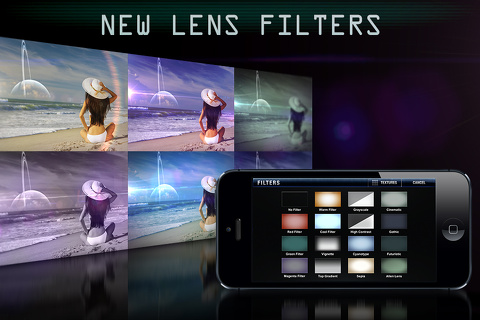 The filters icon leads to a matrix with fewer options to change the light, but they are well-crafted and perfectly suited to add ambience. Generally, the filters add layers of light to provide contrast, texture, and dimension. The alien lens filter is the star. It adds that greenish, muddy light associated with science fiction. It also adds a halo effect to cloud the outer edges of the frame. The Alien Sky Photo Editor iPad app integrates the iOS sharing and saving interface accessed by the arrow icon in the upper right corner of the screen, when you complete your editing.
The audience and attraction of the Alien Sky iPhone, iPod Touch, and iPad app may be limited to the science fiction obsessed crowd. It is, however, an excellent photo editing app as a result of the seamless experience it creates.