The Rookie – Photo Editor iPhone, iPod Touch, and iPad app is a cool blend of popular tools and features from social and photography iOS apps. It includes thoughtful gesture controls for photo editing tools, great free filters and stickers, and excellent sharing interface. The free download from the iTunes App Store functions beautifully, but premium filters and stickers elevate it.
You can shoot photos from within the Rookie iPhone app with zoom capability and flash control. As you shoot your photo, you can also adjust the filters to get that perfect shot. Or, you may choose to edit photos from your iPhone's library. The editing interface has five icons at the bottom of the screen – camera, filters, tools, stickers, and share. The filter icon is a rainbow circle, and it changes the screen to ten categories of filters. The categories cover virtually every aesthetic ranging from traditional to eclectic.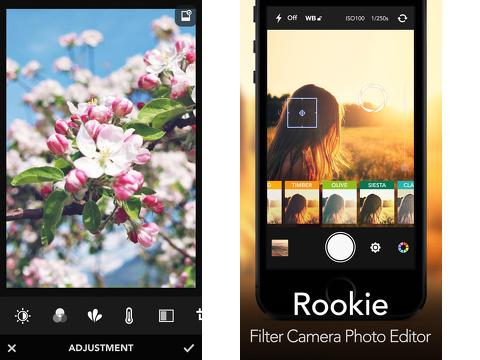 When you select a category, the screen changes. Your photograph fills the screen, and filters are arranged horizontally at the bottom of the screen. For each filter, you can adjust the intensity by moving the line icon in the lower part of the photo. You touch the check icon when complete.
The photo editing tools are accessed with a tap on the icon with two lines. The tools fill a horizontal menu bar at the bottom of the screen. For eight tools, you move your finger on a line like adjusting volume. These eight tools include brightness, contrast, hue, saturation, vibrance, color temperature, tint, and fade. The interface for these tools is exceptional in its simplicity. These are sophisticated, advanced tools that are easily manipulated. You can also crop your photo. For each adjustment to your photo, the layer is counted. You can find that number in the upper left corner of the photo. You can always see the original photo with a touch on the red dot in the upper right corner of the photo. An undo button removes the most recent change to the photo.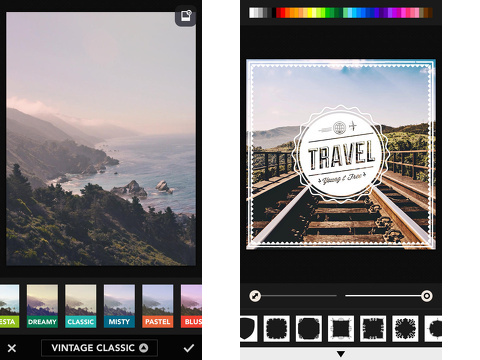 The sticker tool adds punch and fun. You can find everything from scribbled hearts to smash and wow. In a smart effort to monetize, the most popular types of stickers require you to purchase a package. The packages include a large quantity of options for the price, so the in-app purchases are reasonably priced.
The share feature gives you a vertical list of great options. You can save to your camera roll and open in other apps. You can also post to Instagram, Twitter, Facebook, Tumblr, and Flickr.
Rookie is a great free resource to enhance and share your iPhone's photos, but you will want to invest around $5 in upgrades to maximize your experience.