Wrap Camera – Effects Editor for Image and Photo iPhone, iPod Touch, and iPad app is filled with customization options to add filters, shapes, grids, 2Dshapes, and sketch effects to your mobile photographs. The Wrap Camera iPhone app is generally well-organized and functional, but the graphics and gesture controls lack refinement.
The first thing you have to overlook is opening to a promotion for another game. When you pay for a download of an iOS app, the first image should not be shameless self-promotion. That can be tucked into the interface after users have enjoyed a valuable experience.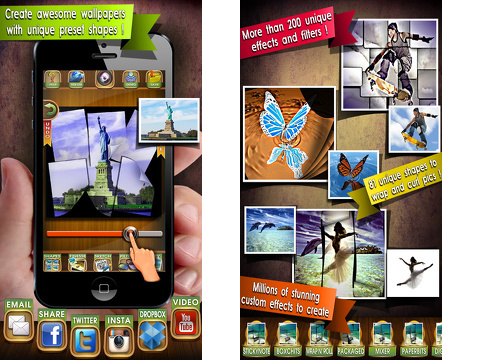 The graphic home screen of the Wrap Camera iPhone app has a similar look to the iOS newstand. You choose between normal and HD icons from the graphic bookshelf. You cannot move seamlessly between these modes within the interface, so be aware you will need to exit out of the application to change modes.
The normal mode screen contains the image in the middle of the screen with a top menu bar, bottom menu bar, and two selections just above the bottom menu bar. The top menu bar offers one touch access to instructions, wrapcam.com, the in-app camera, a video demonstration, and saving options. The bottom menu bar has the following options: shapes, finesse, grids, 2D shapes, and sketch. The two selections just above the bottom menu bar allow you to restore the image to its original state. However, as you select from the photo editing tools in the bottom menu bar, all of the additional customization options pop into the area just above it. The restore option moves to the top of the screen. You swipe horizontally through the customization options to access the selections.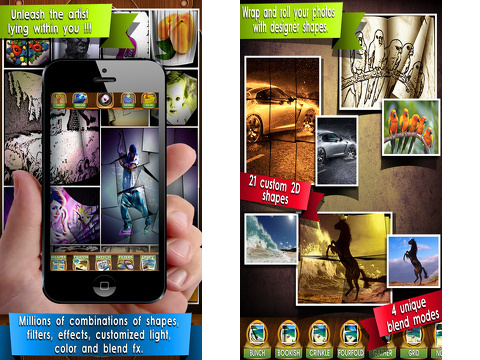 The customization options are vast and unusual. The shapes icon has 68 choices like jigsaw, collage, silk, and tilted. The finesse icon leads you to 30 different filters ranging from rainbow, glow, sparkle, and a variety of color applications. For each effect, you can change the intensity with a volume style bar. The gesture controls of the volume bar are not as responsive as they should be, but they will make an appropriate change. The grids icon divides your photo into one of ten choices. The 2D shapes icon adds a fun house mirror perspective to your photo. The sketch icon gives you up to nine selections to transform your photo into a drawing.
When you have completed your Wrap Camera iPhone app adjustments, you have several options to save and share. You can save to your iPhone photo gallery and Dropbox. You can share to Facebook, Twitter, Instagram, and Pinterest.
The Wrap Camera – Effects Editor for Image and Photo iPhone app is loaded with options to transform your iOS photos with interesting and unusual tools. It would, however, be a good idea for the developers to increase the taste level of the graphics and gestures.