Monster Galaxy: The Zodiac Islands is an adventure-style RPG iPhone game from Gaia Interactive that allows players to capture monsters called Mogas and use them to battle other Mogas and complete quests. With over a hundred Mogas available for capture, this game is much like Pokemon in iPhone app form. Each Moga has its own Zodiac sign that essentially gives each monster its own elemental type. A Moga can use either a standard attack based on tap timing by the player or a Zodiac attack that increases in strength based on how many times the player can tap the screen in a given time limit. Mogas are captured using devices called Starseeds, and the success rate of capturing a wild Moga with a Starseed is based on how much health it has remaining.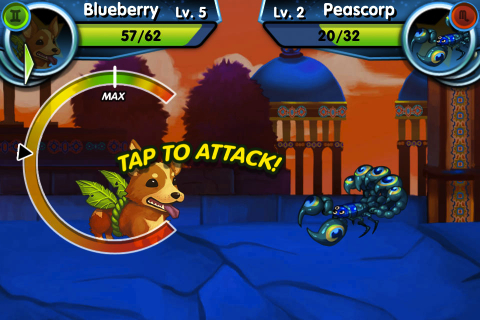 I played Monster Galaxy: The Zodiac Islands on a fourth generation iPod touch but noticed that the app has some lag issues. Preparing a Zodiac attack, for example, takes closer to ten seconds than the allotted six seconds. Loading times can also be a bit frustrating, especially given the event-based style of the application. Each portion of the adventure provides a text bit with either your character's parents or some other character. The dialogue is certainly not impressive and generally does not give any additional tips that the gameplay itself does not already provide.
The controls are very simple in Monster Galaxy. As with most iPhone and iPod touch applications, many actions can be performed with a simple touch of the screen. For example, only three Mogas can be carried for battle at any given time, but other Mogas can easily be substituted into the party by tapping a few on-screen buttons.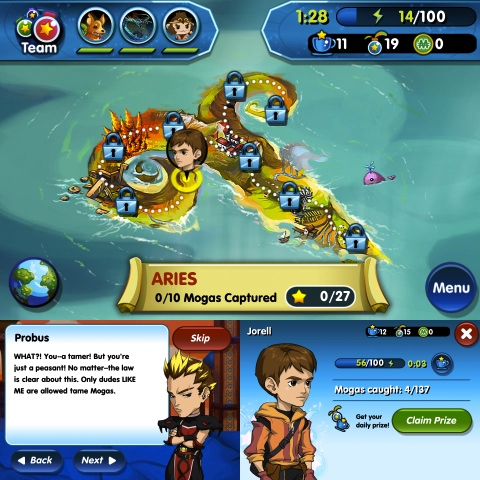 The graphics for Monster Galaxy are somewhat cartoony, and attack maneuvers made by Mogas are very simplistic. Many battles consist of watching Mogas move laterally on the screen with the exception of the occasional Zodiac attack. Despite the simple nature of battling, however, the application still manages to create its own charm. The concept of being able to collect and level up Mogas makes the app addictive.
There is not a lot of music to review in Monster Galaxy, but most of it consists of basic tunes. Battle music is not all that catchy, but the music played on the world map may get stuck in your head due to its royal and heroic nature.
Monster Galaxy is certainly worth giving a try based on its free price tag. Few applications offer as many hours of gameplay as Monster Galaxy, and the collection aspect will suck some gamers in right from the start. Even when the iPhone app is not being played, Mogas can nap and have their health fully restored for when the adventure is played again. Get out there and catch 'em all, gamers.