Looking for a blast from past to add to your collection of puzzler apps? Parking Lot by Crustalli is an iPhone and iPad puzzler game from Crustalli Ltd, bringing back the smart, old school puzzler imbued with fun graphics and a smooth interface. Watch out! This Parking Lot app was such an addictive time killer that I actually ran late to a meeting. Crustalli's Parking Lot rendition for iOS sucks you in and keeps you coming back for more.
Graphically, the Parking Lot has a cool, appealing vibe. Imagine the best doodler you know who fills the margins of notebooks and conference manuals with excellent pictures and designs. You look over his or her shoulder, and you think, "Wow, that's cool." Then, they rip it out and give it to you. The Parking Lot iPhone and iPad app has a modern take on a vintage artistic vision. It is an old school puzzler brought to you with 21st century technology. The cars you play with are a fusion of Mini Cooper, Fiat, and a VW Bug. When you choose your car, your choice is based on national allegiance. There is a flag on top of the car.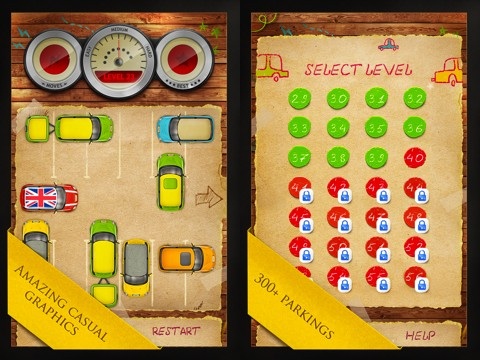 Gameplay in Parking Lot is straightforward with logical progression. There is no jumping around from one level to the next. You start at the beginning and work your way to the next level. There are some simple pop-up hints guiding you through the first few levels, but, simply put, you move a car with responsive finger swipes. A gauge at the top of the screen monitors the number of movements you make per level. With the Parking Lot iPhone and iPad puzzler app, efficient game play is rewarded. If you move often, you earn fewer points. If you move with the least amount of finger swipes, you earn more stars. Even with this reward system, you will earn high points quickly. At the end of each puzzle, you can replay the game, move to the next game, or redeem hints. The Parking Lot iPhone and iPad app requires strategic thinking quickly, and each app update brings tougher challenges to your iPhone, iPod Touch, and iPad.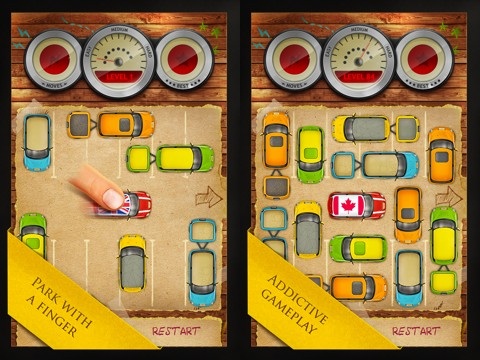 The developers at Crustalli have incorporated an interesting system for retrieving hints. You pay for them with in-app purchases, the purchase of online services and products, or brand messaging. One example would be to purchase a magazine subscription. Another example is liking a company on Facebook to earn points to purchase hints. Parking Lot is a universal download that sells for $0.99, and the hints pack costs an additional $0.99 via in-app purchase. The Parking Lot iPhone and iPad app is fully integrated with Game Center, Facebook, and Twitter, so this pay-for-hint via social networking platform makes sense. You become addicted to a cool puzzler app, and you share your appreciation. If this game were played in a web browser, the pay-for-hint functionality would be no different than clicking on an ad.
The Parking Lot iPhone and iPad app brings 21st century functionality and sensibility to an old school puzzler, and it's a lot of fun.