Kingdom Rush is an excellent take on tower defense game for the iPhone. Usually I get bored playing that type of game because when I get a good set-up going, I watch my units destroy enemy units. This app still has that but I feel like I'm a bit more involved due to reinforcements and the meteor spell. Also, I enjoy the detailed cartoon art style and the references to other media like M.C. Hammer and exploding creatures from Blizzard. Armor Games Inc. is selling Ironhide Game Studio's amazing tower defense game, it requires 4.3 or higher and can be played on the iPhone and the iPod Touch. The HD version is probably the best version to be played on the iPad.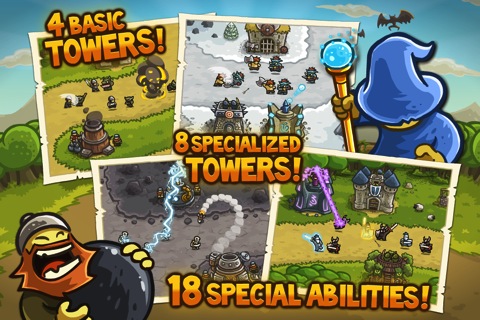 Like other tower defense games, you select an area to build a tower and upgrade them to defeat waves of enemies. You can tell which places you can build since they are a patch of earth with a sign in the middle of it. Using the gold you start out with, you choose which of the four types of towers you want to make and they will get you more gold as they kill enemies. Each tower has two branches such as barracks having paladins or barbarians and mages having wizards and sorcerers (classes will be unlocked during various parts of the campaign). Heroes can be used by paying fifteen stars for the hero room. They start at level one and max out at level ten.
A hero's level will reset when playing a different stage and restarting it. A hero is like a moving tower and is pretty useful and each one has different skills. I like using Alleria since she can cover both ground and air units. Stars are used for tower skills and their line of upgrades such as getting more armor for barracks and reinforcements, giving rain of fire the scorched earth ability, decreasing cooldowns, etc., and getting the hero room.
The maximum amount of stars at the time of this review is seventy-five and they can be reset without any cost so you can use them for specific challenges. Three stars can be gained on campaign stages which depend on how much life you have left. Sixteen to twenty points of life will give all three stars, six to fifteen will give two, and one to five will give one star. Heroic challenges will give one star upon completion but with set rules such as one point of life (like all challenges), no heroes and/or archers, or a max level for your tower skills and about six elite waves. Iron challenges are similar to heroic challenges with only one super wave as a difference.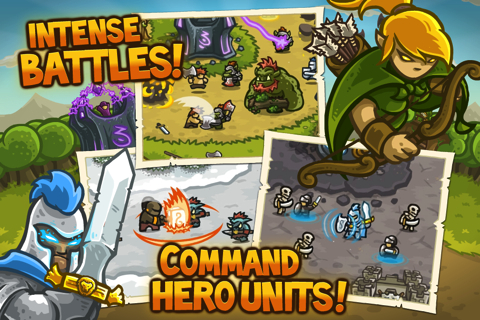 Start a wave by tapping on the skull icon (move to it) and you can start the next wave early by doing this which gives you a few pieces of gold and adds seconds to your cooldowns for rain of fire and reinforcements. Rain of fire helps defeat groups of enemies while I use it to kill necromancers which when left alone can raise a skeleton army and reinforcements can be used to help stall or kill weakened enemies. The game is over when enemies reduce your life to zero and each type of enemy can take various amounts of it.
The weakest ones will take a point while stronger ones will take three or five and bosses, yes bosses, will lead to a game over if it makes it past your defenses. There are secret units that can be found in a few stages such as a sasquatch even though it's in a cold place. The barracks sometimes have bad hit detection so when an enemy is nearby they may not attack it. This tower defense game doesn't have a speed up button which is fine to me but others may not agree.
I like the various strategies that you can use and the nods to other media such as the hero unit Malik Hammerfury saying "It's hammer time" and "I pity the fool" and some of the achievements such as catching a fish which people might overlook and killing sheep by tapping on them for awhile. I also enjoy the different tower classes and my favorites are arcane wizards and their death rays, big bertha artillery units, snipers, and barbarians with throwing axes and being able to set their rally point (all barracks units can do this).
I like the detailed cartoon graphics and the ability to zoom in and zoom out by pinching the screen and vice versa. On my iPod Touch 4G, the graphics are small but the zoom feature helps out. You have to scroll around to see the whole battlefield. Some enemies will bleed when attacked and leave a puddle of blood when they die. Your rain of fire spell will launch exploding meteors that create a pool of fire (when you get the upgrade) in the area you've selected and watch as most enemies who walk over it will trigger their death animations. I like the vibrant variety of colors and the different locations we fight in such as the forest, a temple in the icy mountains, a swamp, etc. I appreciate the quality of the graphics and am impressed by them.
The audio for Kingdom Rush is wonderful. It has voice acting and sound effects like homing missiles launching and some enemies making a satisfying poof when killed. You can hear swords clashing and your units speaking when you make and upgrade them which reminds me of playing Starcraft and clicking on units just to hear everything they will say. It might be repetitive after a while but it doesn't take away from the action. The music and sound effects can be turned off and there is no iPod music support.
Kingdom Rush sells for $0.99 on the iTunes App Store while the iPad high definition version of Kingdom Rush costs $2.99. This game has three heroes to purchase at the time of this review. They are $0.99 each but are not necessary to beat the game. I recommend beating the campaign and the challenges on easy so you can get stars for upgrades and the ability to use a hero. After that, you can play on normal and see if you can beat the stage without losing health.
For me, the game rarely crashes but when it does you have to start the stage over. The recent update fixed some problems such as crashing on some stages. Supposedly the next update will have add another stage, a new hero character (don't know if it's free or not), and other things. I have a few problems with the game such as buying new heroes but Kingdom Rush is still one of the best tower defense games I have ever played.