Avengers Initiative is a touch-screen brawler by Marvel Entertainment available for iPhone, iPad, and iTouch. It revolves around the swipe-to-fight combat system which has become increasing popular since the success of Infinity Blade. The game is set within the Avengers storyline of the Marvel Universe. A small posse of villains are on the loose, and it is up to The Avengers to stop them. The only playable character is The Hulk, though. There are promises of expansions and more playable heroes, however it hasn't been made clear if it will come in the form of updates or completely separate new games. For now everyone's favorite green giant will have to do.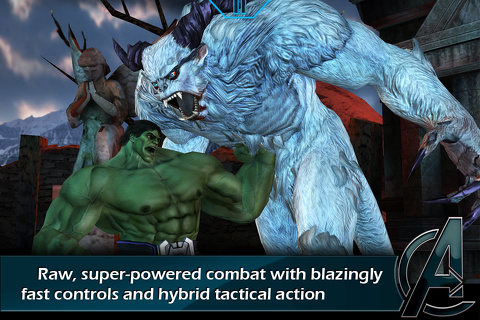 The game revolves around big cinematic boss fights. When not in combat players progress through the map in third person view by finding and tapping key points of interest, and once you find your enemy things really get started. Avengers utilizes a great combat system: swiping the screen in various directions results in different attacks, and different swipes can be linked together into more complicated combo attacks. Bosses take a moment to telegraph their attacks, giving you a chance to tap left or right to dodge, and there is also a block button to absorb damage. Upon successfully beating the villain into submission you are given a few seconds to build up your rage meter, which involves rapid swiping to perform massive finishing move that send your opponents through walls and over cliffs.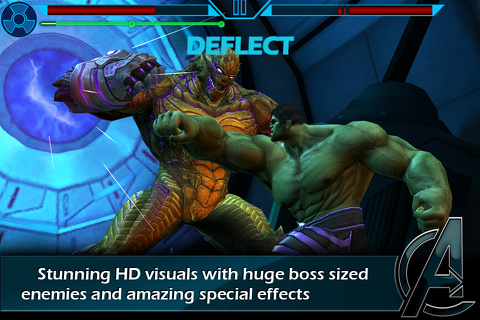 The graphics in Avengers is extremely impressive. Things like the textures of the Hulk's veins and fur on villains are incredibly detailed, and all the movements are quite fluid. Following each battle are options for various stats and powerups. The Hulk also has a number of customizable skins ranging across a variety of colors and even facial hair options. Albeit a bit on the negligible side, these features offer some nice options for customization. I'll never complain about a bearded Hulk.
Avengers Initiative is a well done rework on the screen-swiping brawler genre. The graphics are clean and the battles pull off an epic feel. The fighting system is also good, but there are quite a few directional attacks, and some of the swipes are imprecise. This results in combos that are often disrupted by mis-swipes that you would swear on your mother's life you did correctly. Despite being a bit derivative The Hulk offers some new ideas and a fun play. It is on sale for $6.99 in the iTunes App Store.
This 3rd Party App is available at the Apple iTunes AppStore. Browse the full list of
all AppStore apps
filed under the AppStore category.