Movie Awards Trivia for iPhone is a fun quiz game to test your knowledge of the most celebrated movies from the 1920's to 2012. The in-depth content covered in the Movie Awards Trivia iPhone app would certainly appeal to true movie junkies, but it would also be a great way to learn more about the history of this important element of American culture.
The Movie Awards Trivia iPhone app has a great vintage feel with its graphic choices. The home screen is reminiscent of a 1940s Hollywood movie poster. The navigation is clean and simple. You can start the game by pressing on the screen, or you can touch the play icon at the menu bar on the bottom of the screen. The default for the game you play is a mixture of time periods and themes. However, you can limit your game to specific content by touching the screen and scrolling to a category like 1920s-1950s, 1960s-1970s, 1980s-Present, Actors, and Actresses. From the menu bar at the bottom of the screen, you can also access top scores of the game, the help menu, and photo galleries.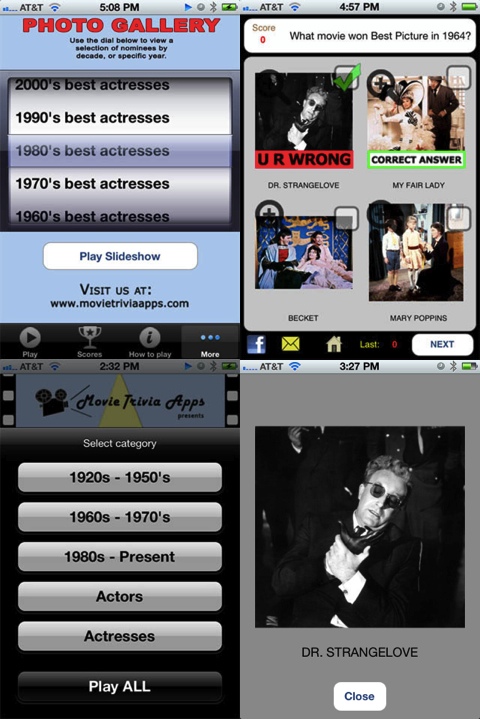 When you play the Movie Awards Trivia game, you play against the clock at the bottom of the screen. The question is at the top of the page, and you have four selections from which to choose. Each selection has a memorable photo or movie poster. It is visually inviting and complex, but it doesn't overwhelm the screen. You select your answer by touching the selection and highlighting a check box. If you are correct, you earn points. If you are not correct, then, sadly, the running tally at the top of the screen doesn't increase. The Movie Awards Trivia app for iPhone totally whipped me, but a friend of mine with some movie trivia chops put up a solid battle.
The photo gallery section has great potential. Right now, you choose different eras, years, actors, and actresses. A lovely slideshow takes over your iPhone screen. An improvement to the Movie Awards Trivia app would be to include actor's name, movie title, and year. Visually, it's a nice element, but the Movie Awards Trivia iPhone app has dense content. And, the addition of movie details would reflect the smart, fun vibe of this iPhone game.
Movie Awards Trivia is available in an HD Version for iPad as well, and the excellent visual impact certainly translates nicely to a larger screen. The Movie Awards Trivia app for iPhone is a solid $0.99 investment for a nicely designed interface and witty gaming experience.