The Cheers iPhone app draws you in with its wit and charm as you give "cheers" to your favorite people, places, and things. Chee.rs is a social networking app for iPhone (with a small web presence as well) that incorporates some of the best features of Facebook, Twitter, Yelp, and Pinterest, with a new happy vibe. Unlike the Pinterest iPhone app which frequently makes me aware how my house is extremely disorganized and how much I don't care about the multiple uses of yogurt containers and spaghetti jars, the Cheers iPhone app removes the guilt and pretension. With the Chee.rs app, you share what you love about your life in its truest form. Send a shout of encouragement to a friend interviewing for his or her dream job. Recommend your favorite neighborhood restaurant or the cool one you stumbled into on vacation. Share a book that changed your life.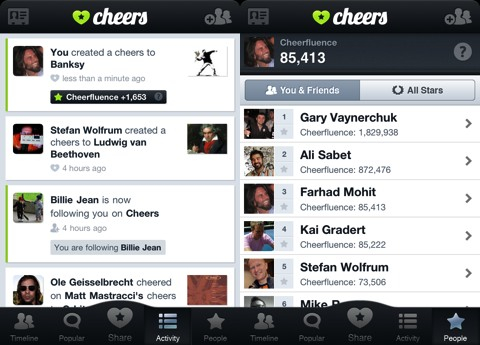 You can set up your Cheers account via Facebook, Twitter, or email. The developers at Cheerful Inc. have created a guide to get you through the registration process, and provide tips and tricks to make the experience comfortable. You upload a photo, then you add email, user name, and password with simple, intuitive interface. Then, you choose people to follow. You can also always invite friends from your contact list, Facebook friends, and Twitter followers via the friend icon in the top right corner of all screens except the share screen. When the Cheers iPhone app opens after registration, your feeds and friend lists are filled. You can immediately check out and share cheers. You create a "cheerfluence" by sharing cheers, commenting on others' cheers, cheering on others' cheers, and generating a following for yourself.
The Cheers iPhone app has familiar, clean, and intuitive navigation. Like Instagram and Pinterest, you move between your timeline, popular, share, activity, and people from the navigation bar at the bottom of the screen. You can filter these categories via gesture controls to narrow your results. The top menu bar lets you access your profile with a touch or invite others to download the Cheers app. You will appreciate the incorporation of your profile in the top menu bar, as it opens up another icon for enhanced features and navigation at the bottom of the screen. This excellent feature allows you to access expanded functionality without added visual clutter.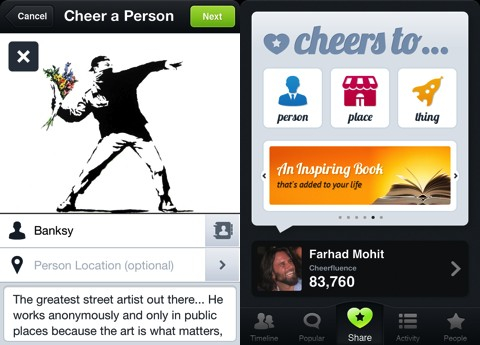 The interface for creating a cheer is well-executed and simple. You touch a category on the share screen–person, place, or thing. If you need a bit of inspiration, you can check out suggestions like, "Your Favorite Sushi Bar-everyone has one." After you select your category, you can shoot a photo from within the Cheers iOS app or upload from your libraries. You add the contact information for a person or place, or you add a blurb of your thing. You add the location and your cheer. You can share via email, Facebook, Twitter, or URL. The sharing continues after you have created your cheer as well. Your cheer is shared with the Cheers community. With a similar feed as Pinterest, your photo and description are available for others to cheer and comment. You can share the cheer via Facebook, Twitter, and Google+. You also have the opportunity to open in a browser. I thought it was cool to check out people cheering friends and family members, and they cheered mine too. People cheered cartoons, their favorite apps, and hilarious life moments. I loved the one where someone just paid off a car, but scraped a bumper the very next day.
The cheers in the Cheers iOS app have a friendly, cool feel creating a community engaging in easy conversations. You don't feel like you're tweeting to no one, or your status update highlighting a dear friend's achievements is relegated to the bottom of the news friend due to incomprehensible algorithms. The Cheers iPhone app is a fun, happy, highly addictive place to spend time. Cheers to new ideas!