Velocirapture is the fun, addictive new iPhone, iPod Touch, and iPad app from Adult Swim Games and Pik Pok. Dinosaurs are faced with the rapture, and you are the hand of God delivering the good green dinosaurs to heaven and striking the devilish red dinosaurs to extinction. The game interface is exciting and responsive, and the graphics and story are hilariously cynical and engaging.
The Velocirapture iPhone app world is not the desolate, stark, and apocalyptic one embedded in our psyche by trips to museums and books in school. Dinosaurs have created a society just like humans–right down to a dinosaur-filled Mt. Rushmore. The conniving dinosaurs that stab you in the back are dressed in suits and named after snakes. Each level starts with a vintage postcard of dinosaur life soon to be interrupted by the Velocirapture. The classic good versus evil soundtrack completes the grand, tongue-in-cheek battle scene.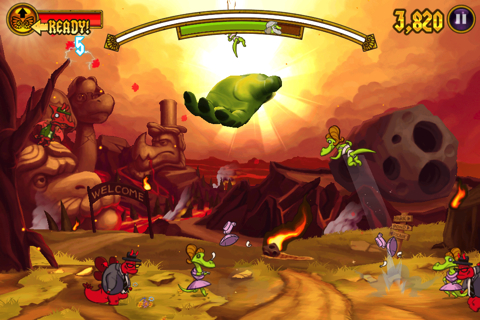 When you become the hand of God in Velocirapture's iPhone app, the gesture controls and game play are intuitive and responsive. You fling the faithful dinosaurs into the hand of God at the top of the screen. You shoot the bad ones with a fling from the hand of God down the screen. As you progress in the game, new dinosaurs are introduced that create more obstacles. Particularly evil dinosaurs can interfere with the hand of God keeping the good and faithful ones from being saved. As each new obstacle is introduced, a helpful pop-up explains the new gesture controls. The speed of play increases and more gestures are introduced increasing the complexity and requiring more accuracy. It's fun, fast, and funny–particularly to those with a dry sense of humor.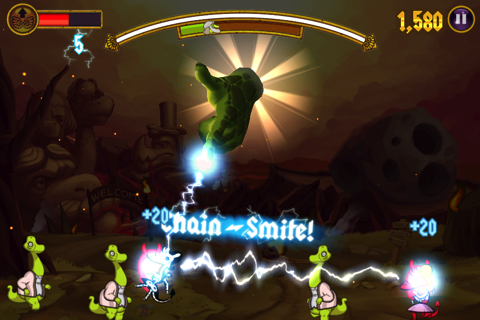 In Velocirapture's iPhone app, you earn "glory" and points. Your glory meter rests over God's hand. Your point totals and results can be shared to Twitter and Facebook, as well as synced with Game Center. The Velocirapture iPhone app is a blast and a great game for the $.99 price tag.
This 3rd Party App is available at the Apple iTunes AppStore. Browse the full list of
all AppStore apps
filed under the AppStore category.