Frequently, the mundane, frequent tasks on our to-do list are the most difficult to remember. The Six Things universal app for iPhone and iPad from Nonlinear Ideas helps you stay on top of many details with its fusion of a to-do list and scheduler ready and available on your iOS device.
To-do list apps contain a high-level of functionality and lots of information, and there tends to be a learning curve to acclimate to a new to-do list app. The developers at Nonlinear Ideas Inc. introduce you to the features and layout of the interface on the home screen. Your first to-do list with the Six Things iPhone and iPad app is filled with hints and keystroke information to help you get started.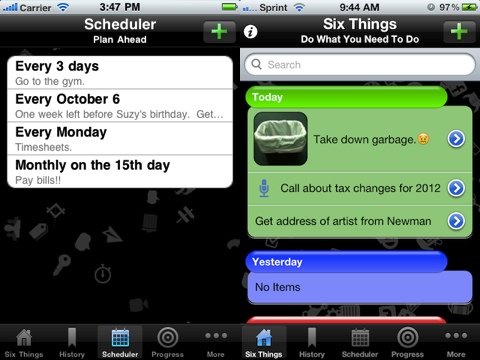 To add a task, you tap the plus button at the top of the screen. One of the nice features of the Six Things iPhone app is the ability to add a detailed task. Sometimes, the form for data entry requires brevity when your task is everything but uncomplicated. Your task is stacked in the list on the home screen. When you complete the task, you tap the task to open it and click finished. It is simple to use.
If you want to set a specific task for a specific day or set up a repeated task, the Six Things iPhone app makes it possible with just a couple of touches on your iPhone and iPad. You can define and create weekly, monthly, and annual tasks, as well as set tasks for a specific future date. You can delete or modify tasks simply by changing the parameters. This is the feature that attracted me to the Six Things iPhone app. Sadly, I absolutely cannot remember garbage day. By using the scheduler tool, I hope to get the trash out on the appropriate days.
For those who like to monitor progress and appreciate successfully completed tasks, then you'll find another interesting feature in the Six Things iPhone app. From the progress icon, you can check out how many completed and uncompleted items remain. You can also check out average completion times and your efficiency calculations. If the developers were smart, then the efficiency calculation should always be 100%. I'm not sure it makes business sense to ask folks to pay for an app that tells them how inefficient they may be. The progress feature is one that may only appeal to a certain temperament.
Overall, the Six Things iPhone app successfully blends a workhorse to-do list and scheduler to keep you on top of details big and small in life.