: Absinthe 2.0 for iOS 5.1.1 has been released. Check out our review of Absinthe 2.0 for instructions on jailbreaking your latest iPhone, iPad, or iPod touch. Below are the historical references to Absinthe 1.x version which you can still use to jailbreak iOS 5.0.x versions. So again for iOS 5.1.x you will need to use Absinthe 2.0.
iPhone 4S and iPad 2 jailbreak is now possible using the new GreenPois0n Absinthe from Joshua Hill and the Chronic Dev Team. The new GreenPois0n Absinthe app makes it possible to jailbreak iPhone 4S and iPad 2 devices that use the A5 chip. You can download and run the new Absinthe app from http://www.greenpois0n.com for either your Mac or Windows and perform an untethered jailbreak for iOS 5.0 or iOS 5.0.1 on your A5 device. Be sure to make a backup in case something goes wrong. Here are the complete steps for installing Absinthe on your iPhone 4S or iPad 2.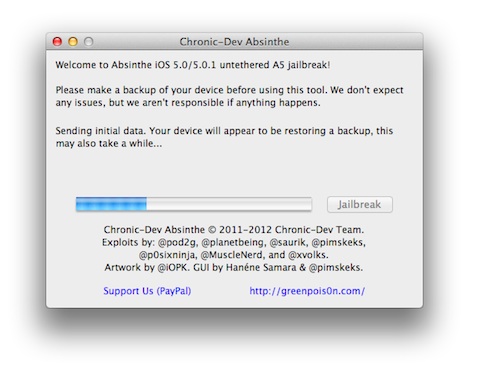 Untethered A5 Jailbreak for iOS 5.0.1 or iOS 5.0 for iPhone 4S or iPad 2 Using Absinthe
Unless you want to unlock your device, upgrade to iOS 5.0.1 if you have not already. Don't upgrade to iOS 5.0.2 when it is released.
Connect your iPhone 4S or iPad 2 using the USB cable to your Mac or PC.
Backup your device using iTunes. In iTunes under devices right click on your iPhone and click "Backup". Note: In case you want to restore later to a backup Right click on your device again in iTunes under Devices and choose "Restore from Backup…" to get back to an un-jailbroken state.
If you have a passcode set on your device you have to first disable it. On your iPhone 4S or iPad 2 Go to Settings > General > Passcode Lock > Turn Passcode Off
Download Absinthe for Mac or Absinthe for Windows from the GreenPois0n website.
Run the GreenPois0n Absinthe application on your computer.
Click on the Jailbreak button to start
You device will go through a series of updates while the jailbreak installs. Don't touch your device while this is happening. The entire process takes about 10 minutes. Watch the progress bar. Absinthe will send a few signals to your device as it prepares a jailbkreak. First your device will appear to be restoring from a backup. Then your device will reboot. Finally Absinthe will send payload data to your device.
When the progress bar is finished, you will see instructions for installing Absinthe from your HomeScreen. Unlock your device and look for the new Absinthe icon. Tap the icon and wait as your device reboots one final time.
Once your device fully reboots, the jailbreak is complete. You will now see the Cydia app icon on your device and the Absinthe icon will be gone. Enjoy!
Previously released Untethered 4.2.1 Jailbreak … Chronic Dev have done it again. Wanna jailbreak your iPhone, iPod touch, iPad, or Apple TV? Maybe you even want to jailbreak your new Verizon iPhone? If you have iOS version 4.2.1 you can finally jailbreak your device using the just released GreenPois0n 1.0 RC5 which produces an untethered jailbreak. If you are unlocked (using a non-supported phone carrier) don't use this, as it will upgrade your baseband and re-lock your device. Otherwise if you just want to jailbreak your device so you can get Cydia and install jailbroken apps, this is the way to go. Previously you were able to use redsn0w to jailbreak to 4.2.1 but that required the cumbersome tethered approach. There was also a recent rumor about another 4.2.1 jailbreak called rubyra1n which has yet to be released.
Here's how to download and use GreenPois0n to perform an untethered jailbreak on your iOS 4.2.1 device:
Back everything up on your iPhone/iPad/iPod touch using iTunes, just in case. I mean seriously, the app has the word "poison" in it. So proceed with caution.
Download the GreenPois0n 1.0 RC5 app from the Chronic Dev website. GreenPois0n is available for Mac, Windows and Linux. The website is slow right now because of the mad rush so be patient. Here is the url: http://greenpois0n.com/
Connect your iOS device to your Mac or PC
Run GreenPois0n and hit the "jailbreak" button to get started
From here you just have to follow the steps and instructions in GreenPois0n to put your device in DFU (Device Firmware Upgrade) mode. Here's how just in case you want to plan ahead.

Press & hold the power button for 2 seconds
Press and hold the home button for 10 seconds while still holding the power button
Release the power button but continue holding the home button

Once in DFU mode, watch as Greenpois0n does its thing. You'll see a black screen with a lot of tiny white text scrolling up. This takes about 1-3 minutes.
Watch as your device reboots
Say hello to your new jailbroken iPhone. You will see a new Loader icon on your HomeScreen. Tap that and you will find Cydia listed. Tap that option and confirm to Install Cydia. Wait while Loader downloads and installs Cydia. Go back and find Cydia on your HomeScreen. You can now go back and "Remove Loader" from its options menu when you have confirmed that Cydia is working properly.
Be sure to add some sources to your new Cydia so you can find even more apps.
Use iPhone mods and hacks at your own risk! Installing 3rd Party iPhone apps requires you to jailbreak the iPhone before installing the native software and apps. Browse the full list of all iPhone and iPod touch jailbreak apps filed under the software category.